If you wish to start a career in web development but also need some quick earning, freelance web development is the way to go. But, where to start is a question that many spend a whole lot of time wondering about. So, our aim today is to help you out with just that as we dive deep into how to be a freelance web developer. 

Is Being A Web Developer Worth It?
It is easy to just look upon the queries such as" how to become a web developer" as the first step in your learning curve, but is web development a good career? Is being a web developer worth it? To be honest, the answer to that relies heavily on you. 
If you have a good grasp of your concepts and are hard-working and passionate enough, surely your career will pick up in no time at all. Recent surveys say that there are more than 23 million web developers in the world. So you can see that the demand for web developers is rising endlessly. 
And hence, before we dive further into the topic of how to get into web development, we would like to assure you that web development certainly is worth it. You yourself are the one who can make or break it.

How To Be A Successful Freelance Web Developer? 
You do not necessarily need to be a full-stack web developer to work in a web development company or in the freelance web development field. That said, in this section, we will be discussing in-depth how to be a successful freelance web developer and the things you need to learn to do so. 

3 Major Types Of Web Developers
To begin with, let us tell you about the three different kinds of freelance web developers that exist out there right below, because how can you start walking on a path of success if you can't decide on a route to follow first?

How To Be A Front-End Developer

Front-end web developers are people who develop the front end of a website. These web developers work hand in hand with web designers to give a website the perfect outlook and user experience that the client desires and expects. 
This means that front-end web developers develop all the user interface-related elements of a website. Such elements may include developing buttons and icons or making color, image, and font adjustments, etc. with the help of coding or programming.
Working as a front-end, web developer means having a good grasp of HTML, CSS, and JavaScript programming languages to build a web interface that a user can work with smoothly. To be a freelance front-end web developer, you must keep yourself up-to-date with all the latest web design trends.
Apart from these, you must understand Search Engine Optimization strategies used by web developers and relevant methods to make a website secure through the front-end.
How To Be A Back-End Developer
Now that we have discussed the front-end field let's move on to the second category of web developers — Back-end web developers. As the title suggests, these web developers are responsible for the back-end-related things of a website.
Their work can make or break the overall user experience of a website, and hence they play a crucial role in web development. For example, a back-end web developer may work with building codes and maintaining them and handling the website's connection servers, etc.
It is a bit harder to work as a back-end web developer in comparison to a front-end web developer. But surely, where there's a will, there's away. So, to become a back-end web developer, you must have a thorough knowledge of PHP, MySQL, Python, Golang, etc. You must also have a good understanding of the Java language, which is different from the JavaScript, which we mentioned earlier. 
Remember that back-end web developers need to have quick thinking, good problem solving, and networking abilities other than being up-to-date with the technological aspects of the coding and programming world.
How To Be A Full-Stack Developer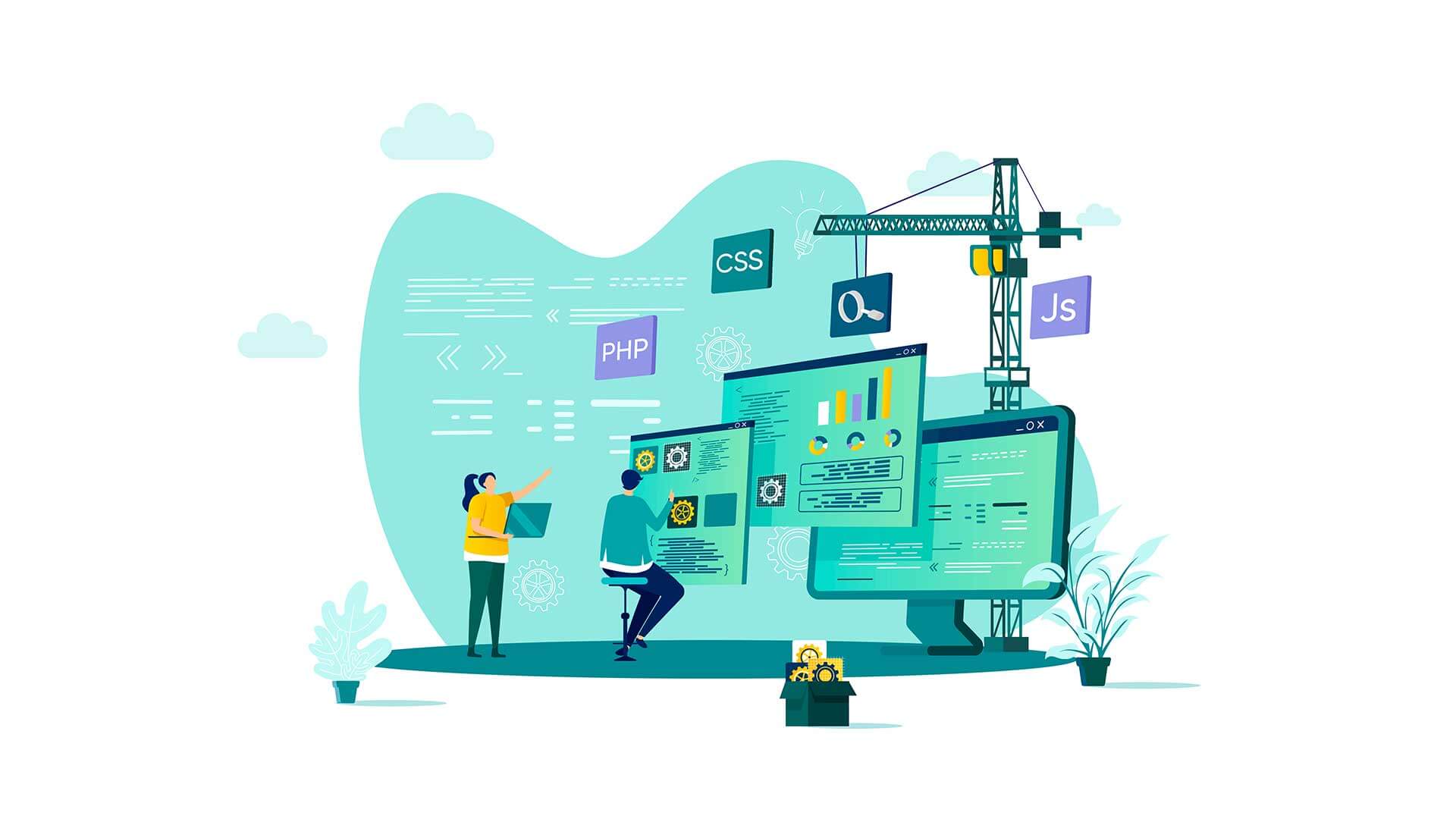 Lastly, we have full-stack web developers, who are kind of like the all-rounders of the web development world. Their job title says it all. Full-stack web developers are the category where the front-end meets the back-end. They are adventurous enough to take the responsibility of both a front-end web developer and a back-end web developer. 
It can be said that the ones who take up full-stack web development are people who are genuinely passionate about it, and hence they never get bored with the challenges that come with it.
While front-end and back-end web developers can really achieve a level of mastery in their chosen field, it is wise to say that full-stack developers can go on to achieve the best of both worlds.
The demand for full-stack web developers may vary from place to place, and it mostly relies on the situation for clients to go to either one of the three categories we mentioned above. 
Some places may need an expert hand on certain front-end or back-end areas of web development, or some may call for the whole project. Nonetheless, full-stack developers are really a package deal.

4 Things To Do For Building A Web Development Career
Now that we have talked in detail about the kind of web developers let's see a list of 4 things you need to do to become a web developer. 
Choose a web development niche 

Research about the skills required for the niche you like

Learn and give time to skill development consistently

Build a portfolio and start somewhere

1. Choose a web development niche 
When we choose a niche, we do not mean the categories of web development we explained above. A niche is more like a subcategory of web development. The major niches of web development are web designers, programmers, content creators, and webmasters. So choose the niche that you are the most passionate about as your first step.

2. Research about the skills required for the niche you like
When you have chosen a niche, the next step is to research a lot about your niche. There are countless platforms where you can carry out such research as beginners. Google, Quora, Medium, Youtube, and Reddit are only a few of such platforms that one can access freely for ideas about the skills required for your chosen web development niche.

3. Learn and give time to skill development consistently
Once you have thoroughly done your research and have set your mind that you will surely take on web development, your next step is to learn the skills required to be the kind of web developer you want and take some time regularly for skill development. 
You can take up online courses, read blogs, watch youtube tutorials, or get a subscription to platforms such as Skillshare or Coursera to start your skill development process. 

4. Build a portfolio and start somewhere
Last but not least, you have to build a portfolio. Why will a client hire and pay you if they do not have an understanding of the skills you have? The process of building a portfolio is something that has to be developed with time. As you develop your skills, the improvement will also be seen through your portfolio. 
So it would be best if you started looking and working for clients to get practical experience while building your portfolio. Platforms such as Fiverr, Upwork, etc. are great places to begin your freelance web developer journey.

How Much Money Can A Web Developer Earn?
Assuming that you have built your portfolio and are now looking for clients. You might be confused about how to fix your work pricing.
The exact amount of money that a web developer can earn may vary according to the region they are working in, their skills, or their chosen niche. 
On average, recent surveys show that a programmer can get up to $65K annually, a web designer can earn about $57K per year, a content creator can get an approximate salary of $47K yearly, and, lastly, a webmaster can earn an estimated $95K per annum. This data goes to show that no matter what niche you work for, the earning is totally worth it.

How Can You Add Value To Your Web Development Job? 
Nothing is valued if you can't make your own worth known. That said, let's discuss how to add value to your web development job.

The first step to this is improving your self-esteem and self-confidence in a way that others can see it through your personality. If you can achieve that, the next steps will be more manageable for you. 

Secondly, you have to be patient and work with consistency while improving your skills — be it coding, programming, or web designing and building your portfolio.

Next, you have to make your presence known. You can do this by asking for advice on forums or giving advice yourself. You have to keep regular interaction with people in the same field as you.

You can also attend webinars or seminars, and workshops. This can help you get some expert advice and help you do some networking or build connections with other influential people in your field of expertise.

You must also be confident in increasing your pricing or asking for a salary increment from your clients or employers respectively if you know for sure that your skills have improved.

Also, it is better to keep moving on from clients or shifting companies if you can no longer see yourself improving career-wise by being too comfortable with a client or company.

Lastly, you should keep constantly applying to high-end companies or taking up more challenging projects from freelance clients and keep pushing yourself out of your comfort zone to keep achieving greater value in your job. 
 Read More: Web Developer Interview Questions Explain

How Can Web Developers Prepare For A Freelance Startup?
You have to perform some tasks beforehand to prepare for a freelance startup as a web developer. Let's take a look at 5 such functions below :

1. Defining some realistic freelance goals
Knowing the destination, you wish to reach within a specific period is your first step toward establishing a successful freelance startup. If you don't know your goals, how will you know where to start? Also, if your goals aren't realistic, you may get demotivated easily, leading to failure. 

2. Fix an approximate budget for an initial investment
To start any business, you have to invest first. As a web developer, your investments might be getting yourself a supercomputer or buying web development tools or subscribing to premium marketplaces where you can find potential organic clients, etc.

3. Plan out your services and fix a price for them
So, you are a web developer. And, your clients will come to you knowing that. But they can't imagine what services you are willing to offer them and what the service cost might be. So you need to set a plan regarding the benefits you will be presenting and research the standard marketplace prices for such services.

4. Making a website and LinkedIn or other social media profiles 
Once you are done with the previous tasks, your next task should be to open up a website through which your clients can access your portfolio, take a look at your services and costs, get your contact details, leave you feedback, and much more. 
LinkedIn and other social media profiles for your startup should also be connected to your website to give your business validity in the client's eyes and build your brand name.
5. Learn and plan some SEO and marketing strategies
Lastly, SEO and marketing play a major factor in determining how successful your freelance business can be. Knowing the basics and being able to strategize around the knowledge you have obtained is a huge bonus to reaching more clients.

Final Thoughts
So, that was all about how to be a freelance web developer! We hope you found our article informative and easy to understand. We wish you to take away from here that Web developers do not have it easy. 
And, if you aren't passionate enough, you will not be able to pull yourself through towards success no matter what. So, keep learning and grow yourself as a successful freelance developer. 
All the best!