Nothing is perfect right off the bat. So why should websites be a different case? In today's article, we will be going through a website redesign checklist to help you achieve the perfect website you desire.
You may think that it is perfect, but as time goes and your experiences with websites grow, you will feel the need to redesign your website somewhat inevitably. People usually redesign websites for a variety of reasons. 
A primary reason could be for rebranding purposes; other reasons could be to update your website on audience demand and so forth. But what does a website redesign strategy entail? Our article is aimed towards answering just that.
So read on to find out.
15- Step Essential Website Redesign Checklist
Maintaining the website redesign steps are super crucial for your website's wellbeing, so what's better than being handed a checklist for the website redesign, right? So, below, we will be listing 15 very essential web redesign requirements to help make your journey super easy.
Fix a budget for your website redesigning

Analyze your current website metrics

Define your website's target audience

Analyze your website's UI and UX

Take a look at your competitors

Research what is currently relevant

Plan your website goals

Select a personality for your website

Speak to some target users 

Discuss with a worthy designer

Make sure your new design is going to be responsive 

Re-strategize your SEO and marketing approach

Change your current content strategy

Set an estimated timeline to redesign

Start redeveloping your new website design
1. Fix a budget for your website redesigning
To begin, it will be intelligent to fix a budget for your website redesign ideas. You cannot dive headfirst into something that requires investment without setting a budget first. The same goes for website redesigning. Fixing a budget for your website redesign will be beneficial in several different ways. 
You will have the ease of finding a good designer willing to work with your budget and weed out unnecessary tasks or content that do not need to be changed. Also, if you know your web redesign cost, it pushes you towards improvising and using current resources.

2. Analyse your current website metrics
When it comes to website redesigning, nothing helps plan your tasks other than analyzing your current website metrics. There are many free and premium tools or software that can give you a whole report of your website within a few minutes.
Such metrics may include your monthly views, interactions, audience heatmaps, and a lot more. By analyzing these aspects of your website, you can understand what is lacking with your current website design and what is to be kept intact while changing things up. So, whatever you may start with, never miss out on thoroughly analyzing your metrics.

3. Define your website's target audience
Another super important part of redesigning your website is knowing your target audience.
Suppose you own clothing business and your website is high on demand for neon-colored apparel. Who buys such things? Mainly teenagers, right? That's who your target audience will be. 
You may be changing your website design, but it isn't fixed that you are changing your products as well. So more or less, your audience may remain the same. Base your new website design by keeping in mind that exact kind of audience and build a persona of an ideal customer if possible. It'll help the design process even more.

4. Analyze your website's UI and UX
Two very important factors that make the base of a web design are its user interface (UI) and user experience (UX). The user interface contains all the aesthetic aspects of a web design. In contrast, user experience comes with the part of making your web design more convenient and easy to use for your audience. 
Analyzing your website's current UI and UX with the help of someone knowledgeable in this particular field may turn out to be super helpful for your website redesign project. It may help you find faults and failings with your current design and give you an idea of your website needs.

5. Take a look at your competitors
Another super crucial step to take before starting to redesign your website entirely is competitor analysis. While the joy of being better at something than your rivals is overpowering, the task of analyzing their websites is proven to help you through your website redesign journey. 
Target the rivals who are slightly ahead of you in the virtual world rather than those on the same level as you. Doing so will help you plan and develop a better design than what you might have been initially thinking about. Also, taking a look at the competitors can fuel your motivation like no other.

6. Research what is currently relevant
Surviving in the current online world is comparable to keeping your boat afloat in an ocean of relevancy. While it may seem like you know what is currently relevant and your website design is suitable, researching the current trends is a better and easier method to redesign your website rather than grasp ideas conjured from thin air. 
It will give you an idea of what users are currently looking for, what aesthetics catch their eyes faster, and what new UX features are gaining popularity. Besides this, it will also help you know if the budget you have fixed is sufficient because you will now see what you want.

7. Plan your website goals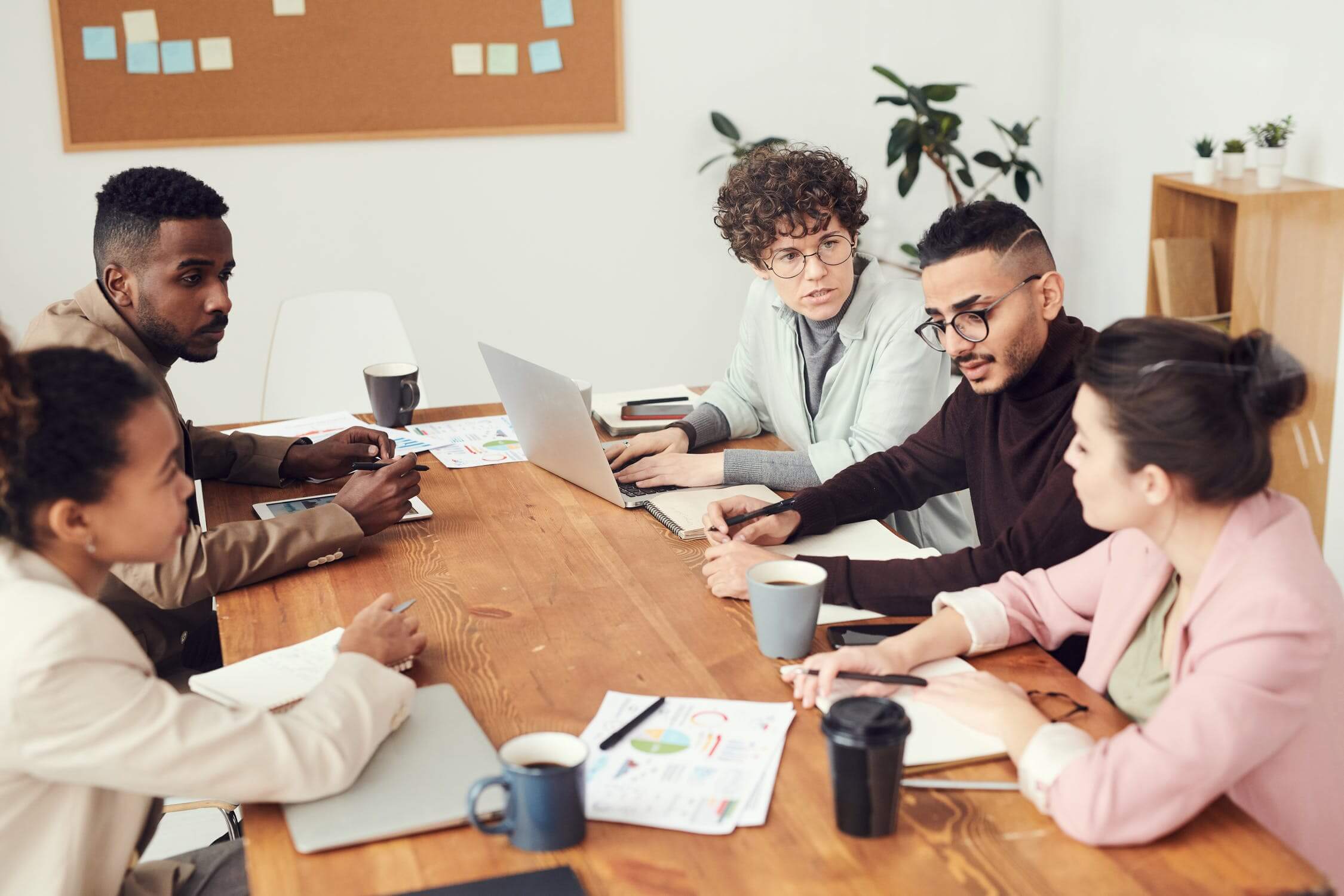 Once you have done all of the tasks we have mentioned previously in our website redesign checklist, you can now carry on to plan your website goals. Setting goals or milestones can help your redesign process by showing you which parts of your website you need to focus on and how you can give your users a smooth user experience. 
Then list the changes you want to make to your website for the new design and revise the list to weed out unnecessary ideas. Planning out your website also adds to your discipline and encourages you to work on things that aren't up to the mark.

8. Select a personality for your website
Websites have personalities. According to the type of content you publish, you have to set up a character for your website. The role of an exemplary user interface comes into play here. So you have to research the kind of interface you want and then browse through website redesign templates to get an idea. 
Once you have chosen your template, you can collect some images that will correctly showcase the kind of personality you want your website to have. This is crucial because it can increase or decrease your website's bounce rate. The feel of your website matters a lot to bring in and hold onto users.

9. Speak to some target users 
Your website audience is the core of your website. They are what keeps your website from getting lost within the millions of websites existing on the internet.
And so, every user matters. Suppose you have already selected your target user base and have built a persona around them. Your next step will be to find some of those target users from your existing audience and contact them personally.
After that, ask them about the things they wish to keep and the features they want to change or add to your website to make their user experience even better. This will help you achieve a level of assurance and clarity about the new design.

10. Discuss with a worthy designer

Once you have come up with your ideas, you have to find a worthy web designer and offer them your website redesign proposal. Discuss your ideas with them and show them the design you currently have and the website redesign template you love to use for your project. 
Talk with them about the goals you wish to achieve within a particular timeline and tell them the budget you have fixed and negotiate with them. Tell them the quality of work you expect from them and ask them to develop a design wireframe for your website. Then only if everything is seeming to go well with the design, invest in their website redesign services.

11. Make sure that your new design is going to be responsive 
In today's world, traditional web designs don't do it anymore. On the other hand, responsive web designs are favored by even Google (as stated in their updated policy). With a responsive web design, you can reach more audiences as your website will be accessible through more devices, making it mobile-friendly as well. 
There are way too many benefits for a responsive web design for you to miss out on investing in an affordable responsive website design and development service. So make sure your new site will be responsive and include that in your website redesign checklist indeed.

12. Re-strategize your SEO and marketing approach

Search Engine Optimization (SEO) and marketing strategies are two things that keep your website up and running. It brings you in customers and gives you the chance to grab the attention of a broader range of audiences with the help of keywords or social media platforms. 
Redesigning your website may also mean that you need to change your current search engine optimization or marketing strategy to achieve your new website goals. This means that you have to focus on adding more unique and more relevant keywords, changing the way you advertise your website, and expanding your advertisements to more platforms.

13. Change your current content strategy
Suppose your reason for redesigning your website is that you are going through a rebranding process, or you are just unhappy with your current website. In that case, you may want to analyze your website content and change your current content strategy because your website's content is also a crucial part of your web design. 
Whether it be written content or your website or the images used throughout your site, making changes to your general web design indeed comes with changing your content strategy. So it is best to sit down with your content creation team and discuss improvements in depth.
Read More: What Is Responsive Website Design And Why Is It Essential?

14. Set an estimated timeline to redesign
You have fixed your budget, you have planned your goals; now, you have to set an estimated timeline for completing all of the website redesign processes you have in mind. Fixing an estimated timeline has so many benefits that it's inexpressible in mere words. It helps keep you within a time crunch and provides you with the pressure to keep working consistently. 
It will also help with your budget if you hire a designer based on hourly payment while still getting the quality work you desire. Everything will be ready to be launched within an estimated period, and you will be achieving all your goals faster. 

15. Start developing your new website design
Last of all, when everything is thoroughly planned, let your developer see the design and approve it, and then you can let your designer start working on the design. Tell your users about the upcoming changes so that they aren't shocked by the changes and adjust more quickly once the new design is done. 
Give your developer a time frame to develop the new web design and go through test runs for all the website features to ensure that everything works alright. This step is essential so that your audience can have a smooth and satisfactory user experience.

Summary of Website Redesign Checklist
To wrap up, website redesign increases the reach of your website by helping you boost your SEO rank, fix aesthetic flaws, reduce your website's bounce rates, and let you gain organic users. 
At the end of the process, when you start getting results from the new web design. You will see an increment in your revenues, and you will have customers who will keep coming back due to the top-notch user experience. 
We hope our checklist has been of help for your redesign process. Soon, we'll come back with another exciting subject. Till then, keep learning to design something inspiring and stunning.