In the world of eCommerce business, Shopify is a revolutionary name. More than half of a million eCommerce websites are now powered by Shopify and it has been spread all over the world. So, many of us want to have a Shopify Website to grow our business. But because of not knowing how to design Shopify website, we fail to do that.
Well, if you are a newcomer here and planning to learn how to design Shopify website professionally, today's discussion can help you a lot. Because everything here is about exactly how you can successfully design your own Shopify website. But first, it's necessary to learn the basics of Shopify that make it essential.

Why Do You Need Shopify?
If you would like to make digital marketing and sell products using a website, Shopify is the best thing you should learn. Millions of world-famous brands are believing in Shopify and growing their business broadly. It's because Shopify generally opens the door of ecommerce business and helps the business owners get millions of customers.
However, once you learn the beneficial features of Shopify, you will automatically learn why you need Shopify. So, keep your eyes attached to the following advantageous features of Shopify.
A Shopify Website is easy to build and design.

It generally provides top-notch support to business owners.

Anyone can manage the site without almost any previous experience of using it.

Highly optimized store management functions will help you showcase your products.

Shopify will boost your shop and help you handle all the essential SEO factors.

It will automatically calculate the Shipping charge and taxes to make a complete payment invoice for every deal.

Additionally, it will handle all the social media integration.

Shopify will also provide exceptional security and protection with a 256-bit SSL certificate.

Most of the services are free and you can manage everything by yourself.

Shopify also provides a very active help center that will support you 24/7.
These are the most basic beneficial features of Shopify. You must understand why it is essential and now want to learn how to design Shopify website like a pro, right? 
Let's check out the basic details along with some crucial tips.

Shopify Website Design Tutorial: Step-by-Step Guide
To create and design Shopify store, you don't particularly need to hire anyone. And you can do everything by yourself. Say how? Well, you can simply follow the easy steps we have mentioned below. And there are some tips as well that can provide a complete elegance to your site.
If you are a beginner, the first thing you have to do is just to plan for your store. If you already have a running store, you can skip this part as well. However, planning for your shop is the most critical part though most of you probably think it is just nothing.
In this phase, you have so many things to plan and calculate. Firstly, think about the products you will sell in your shop. You have to make a budget for investment and make a decision whether you are going to have any partnership.
Additionally, you have to ensure that you are determined to do the business and you have enough time for it. Besides, you have to make sure of having enough money for investment. After planning all about it, you can go ahead to find a name for your shop.
You cannot just name your shop with a random word. It has to be catchy, attractive, relevant to your business idea, and also memorable. You should remember that the store name is the identity of your business.
If you have a physical shop or legal business, it is not mandatory to keep the same name for the eCommerce shop. You can pick a new name as well. But remember not to copy the names of other businesses so that people can take legal steps against you.
As you select a very catchy and elegant name for your store, you have to register the mane as the domain. Basically, the domain name will be there in the URL of the link to your site. And the customers will write it to find your page.
To register the domain name, you can simply use Shopify. It has its own domain name-making process. Also, you can do it by any third party like Namecheap. Additionally, you have to check out if the name you have selected is available or not.
Creating a Shopify Account
Now, it's time to do the most essential task for your Shopify website. And it's about creating a Shopify account. Simply visit www.shopify.com/singup. It is the official site of Shopify. Here, you'll get an option for 14 days free trial. Select it and fill in the requirements to open a new account.
Here, you have to add your name and email address. Also, you need to set a password to open an account. After that, you will get an option that will tell you to say something about yourself. It's not mandatory but you can fill it as you wish. Well, you have successfully created your account on Shopify.
Well, now you have your account and so, you can work freely to design it. Generally, a theme is a pre-built website. So, different themes have their features and designs. That's why you should check a lot of themes and select the one you like the most.
You must think about where can you find the theme collection, right? And it's easy. First, click the 'Themes' option on the Online Store. Then click the option 'visit them store'. Well, you will get lots of paid and free themes there. So, choose one that suits your favor and business idea.
Do you have a logo for your store? It is quite important to prove your individual authenticity. If you have one that you made by yourself using different photo editing apps, then you can add it to your Shopify store.
Well, if you don't have one, it's okay. You can now make it using Shopify. On the option for themes, you will get a free logo generator and you can simply use it to find a proper logo for your store. Also, you can hire someone from Fiverr to get help making a logo.
Store Setting Optimization
Now, you need to go for the ultimate store setting optimization. Though the default setting of Shopify is appreciated, still, you have something to do. You need to check the following setting factors for that.
Generally Setting:

 
You will find this option by tapping the Setting option on the homepage. Here, you have to set the store name, email, store address, and other basic details.
Checkout Setting:
Here, you need to customize the account settings for the customers. First, you have to select the optional account setting and then "Require first and last name." Lastly, you have to select the preselect sign-up option.
Payment Setting:
You will find a payment provider option. Here, you will get the Complete account setup button and tap it to configure the payment gateway. Here, you will also get some other options like a product details box and a complete account setting. You have to fill them with respective details as well.
Shipping Process Setting:
You will find the shipping setting on the general setting page as well. And here, you will get all the options for dropshipping management, shipping charge details, and others. You can customize them as you wish.
Account and Legal Setting:
Lastly, you have to customize the account and some legal issues. In the account setting, you have to tap the button of Add staff account and let your partner have access to the site. Next, in the legal setting, you need to customize the Refund Policy, Privacy Policy, and Terms of Service agreement to legalize your business.
Besides the basic homepage, you will need a few pages to complete your ecommerce website. A Contact Us page, an About Us page, and a Shipping Policy page are the most important ones. To add a new page, you can simply click on the button of Add page, and then in the drop-down menu under the Template section, you will get pages for different sections.
After you make all the pages, you have one thing to complete. You need to add the pages to the menu navigation. Here, you have to tap on the Main menu and then edit the main navigation menu. Then you have added the newly built pages to the navigation menu.
Now, you can add all your products to make your site a rich one. But just adding the name or images of the products is not enough. You have to provide a detailed description and features of your product or service. Using captivated images is also very important in this case.
It is needless to say that adding an attractive and detailed description is also necessary for any product. You have to remember that if your clients cannot trust you, it will be difficult to continue your business. And a reliable source of the description of each product can help you earn the clients' trust.
To complete the product description, you have to provide a straightforward price for the product. You should mention the color, size, and other specifications as well. You can additionally include a title and meta title too.
Adding Promotional Codes and Offer
Especially when it is a newly made website, promotional codes and offers are very essential to catch new customers. It is possibly the best way to have more viewers and customers in a short time. So, you have to make attractive offer advertisements to attract the clients.
Adding discount codes is eventually quite easy and simple. You can go to the discount option and find the button named codes. Tap there to get in and set the parameters to apply the codes. You can either provide a particular percentage of discount or a particular amount of money.
On the Homepage, you will get an option for orders and it is a crucial part to understand and manage. When you will get an order, you can find the details right here in this section. And all the customer's details will be there too.
So, you have to collect the name, contact number, and address of the customers from this section. And when you will ship the product, you have to update the order status as shipped. Before that, it will be in the processing mode.
How is your business going? Won't you like to get an analysis of your running business? If yes, you need to learn the process of checking Google Analytic Review. When you will be familiar with the Google Analytics page, you will learn about your site traffic and the pages that certainly visit your sites.
Additionally, it will provide you with a clear idea of your site. However, on the dashboard, you will find the button Analytic right under the option of Customers which is indeed under the order and product. Once you tap the Analytic option, all the details will pop up before you.
Lastly, you have to go for the paid plan. We have already told you that Shopify only provides 14 days of a free trial. So, you have to buy the domain after 14 days. There are 3 different types of services that you can go for. And each of them comes with different features and advantages.
Basic Shopify, Shopify, and Advanced Shopify are the three types you can go for. The first one comes with fewer functions and it only costs 29$. The general Shopify will provide you a medium range of features and you can buy it for 79$. And lastly, if you need more and premium features, you must go for the advanced one that costs 299$.
So, these are the basic steps you can follow to create and design your own Shopify store. But we cannot assure that these steps are enough to make quick success. We can share a few easy tips that won't fail anyway. So, keep your concentration along with the screen to learn the most unique and effective Shopify design tips.
Some Pro Shopify Website Design Tips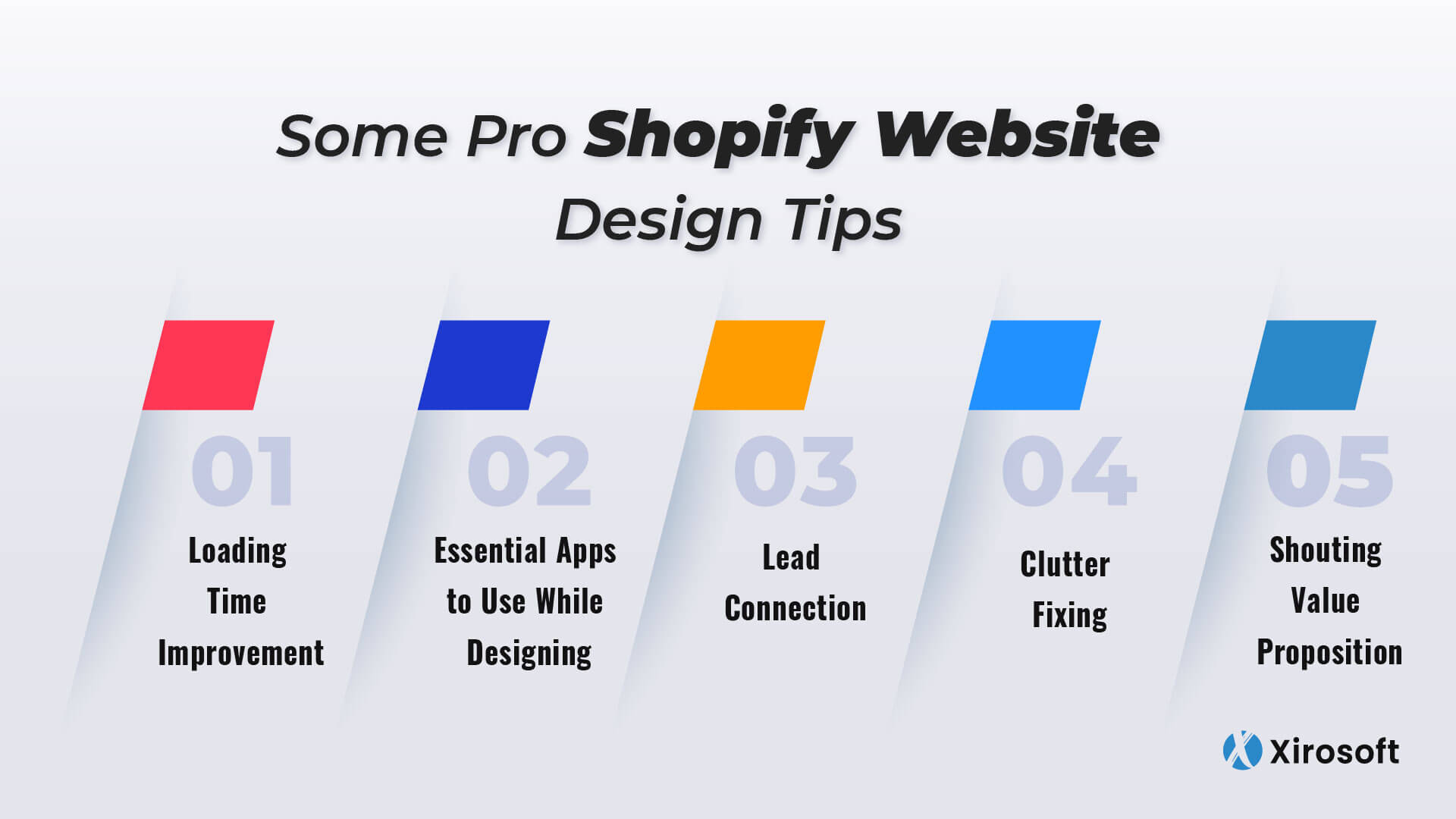 You have learned the basic steps to create and design a Shopify page. But following the basic steps are not enough to give your site a rich look and a hundred percent authenticity. We have a few effective and secret tips that we are going to flash today. So, stay connected.
When the customers will have to wait for a long time to get the page, they will be bored and impatient. Most of them will leave your site not even having a look at your product. So, you have to decrease the loading time.
You can decrease the loading time following three easy steps. First of all, you should avoid third-party themes anyway. Secondly, you have to analyze the usages of the apps and widgets. And finally, you need to compress the images so that they won't take too long to load.
Essential Apps to Use While Designing
There are many essential apps that can help you with your Shopify website. We are not mentioning the names of the apps directly here. But we will soon make a complete discussion on different apps for Shopify. But using the apps will reduce your effort and at the same time make things upgraded.
Lead connection is one of the most essential needs for the Shopify store. When you will design the site, you will get a lot of opportunities to link the leads. And the elements of the leads will help you get more connections using different social media, email sign-up facilities, and so on.
Avoiding unnecessary clutter is also an important task for a site. Just like the excessive loading time, this clutter can be a cause of losing more potential customers. However, you can avoid the clutter by just focusing on the specialized products only. You have to keep your store free from all junk and unload it timely.
Shouting Value Proposition
Showcasing your value proposition is another Must-try for any Shopify store owner. It is all about convincing the visitor not to bounce anyway. You have to be clear and expose why your products are the best and the reason the visitors will trust you.
Besides, you need to check the product pages details very clearly. You need to reflect on your individuality as well. But the following tips can never fail to bring your site on a rank if you manage to utilize them properly.
How To Design Shopify Website- Conclusion
It is needless to remind you once again about how essential Shopify is in any business field. If you understand its necessity and effectiveness, We hope you are willing to make your own Shopify store. And now, you can do it by yourself. We have already tried to put everything you need to learn.
Still, if you have any confusion left, just leave a comment right below. Also, you can share your personal recommendation or tips here as well. 
Thank you a thousand times for your support.